About a year ago I bought a cute new recipe binder for
really
cheap. The problem is that the sections in this book did NOT work for me. All the tabs were pre-printed, and there weren't any extra ones for me to add my own sections. I knew I was going to have to come up with a better system... so I just started stuffing recipes into the book.
Stuffing.
Awful, ain't it? Looking up a recipe was a real chore.
This week, Toni @
A bowl full of lemons
is challenging people to get their recipes in order. And I decided it was high time to do just that. I am thrilled with my results.
The first step was to identify what sections I needed. So I started off by listing the ones I could think of, and then sifting through my recipes to make sure they all had a category to fit in to. I added a miscellaneous category for things that didn't deserve their own section, such as preserves, since I don't do a lot of preserving.
The sections that work for you could be very different from what works for me, but here are the sections I decided on:
Appetizers
Soup & Salad
Main Dishes

beef
poultry
veggies
pasta

Side dishes
Breads
Breakfast (with a sub section for muffins)
Dessert (with sub sections for cookies and cakes)
Misc.
I made the tab dividers and pages out of scrapbooking paper and cardstock. I used some little scrapbooking embellishments and do-dads for decoration too.
Each section tab has a corresponding picture on it.
I was inspired by the recipe clippings books of old. I wanted an eclectic gathered together look that would complement the various additions and food splatters it will acquire over the years.
Each section includes a page protector labeled "Recipes To Try" so i can clip recipes and put them somewhere without having to commit them to a permanent spot in the book until i know that they are keepers.
Now finding the recipe I need is easy.
And pretty too.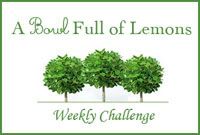 Swing by A bowl full of lemons to see
more articles on creating a functional and beautiful recipe binder.